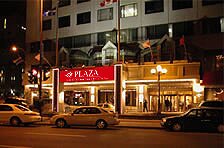 Doubletree Plaza Hotel Montreal Centre-Ville is the destination of choice for knowledgeable travellers the world over - people who recognize the value in our unique combination of efficiency and comfort.
Whether business or leisure travellers, our guests enjoy the pleasures of the Doubletree Plaza Hotel's simplified elegance, combined with the practicality of the latest features and amenities.

Wireless Internet Access (WiFi) now
available throughout hotel

The Doubletree Plaza Hotel is a 24-storey hotel with 312 fully-appointed guestrooms (amongst the largest in the city) with ample work areas, sitting areas, and truly stunning views of the city of Montreal and its surroundings.
We offer a full compliment of business services, excellent dining choices in our Impressions Restaurant (or through our Impressions Room Service), and quality fitness facilities.
Our close proximity to the wonders that the city of Montreal has to offer makes The Doubletree Plaza Hotel a great choice of accommodation for both business and leisure travellers.
From our outdoor terrace overlooking fashionable Sherbrooke Street, you are just minutes away from the Convention Centre, the financial and garment districts, the lovely cafés and boutiques of Saint Denis Street, the dazzling nightlife and world-renown restaurants of St-Laurent Street.
The Doubletree Plaza Hotel is adjacent to the most efficient subway system in North America (Sherbrooke Station), therefore, allowing you direct access to the major points of interest in the City, such as the Olympic Stadium, Old Montreal, the sumptuous Montreal Casino, and so much more.
Old Montreal, just minutes away from the hotel, with its mysterious roads and its aura of yesteryear, provides for a beautiful getaway from the modern, fast-paced world we live in.